AVIA CARD
A tailor-made offer for your fleet management
Buy fuel at AVIA petrol stations in a quick, practical and safe way
Easy- to-use
No cash required
Elimination of the paper form.
Receive the invoice with the detailed report of consumptions and supplies for every vehicles, valid for the recovering of IVA and ACCISE.
Security
Respect the highest standard of information security, each card is equipped with magnetic tape and Pincode
Plafond and methods of use of each card will be set by the cardholder.
Saving
Find supplies at competitive prices on our network with the opportunity to obtain additional discounts based on your consumptions.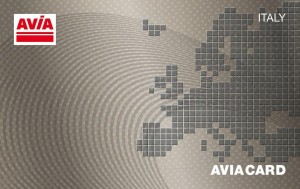 Which cart to pick?
Fuel Card
High consumption and large corporate fleets
Rechargeable Fuel Card
Low consumptions, small fleets, private